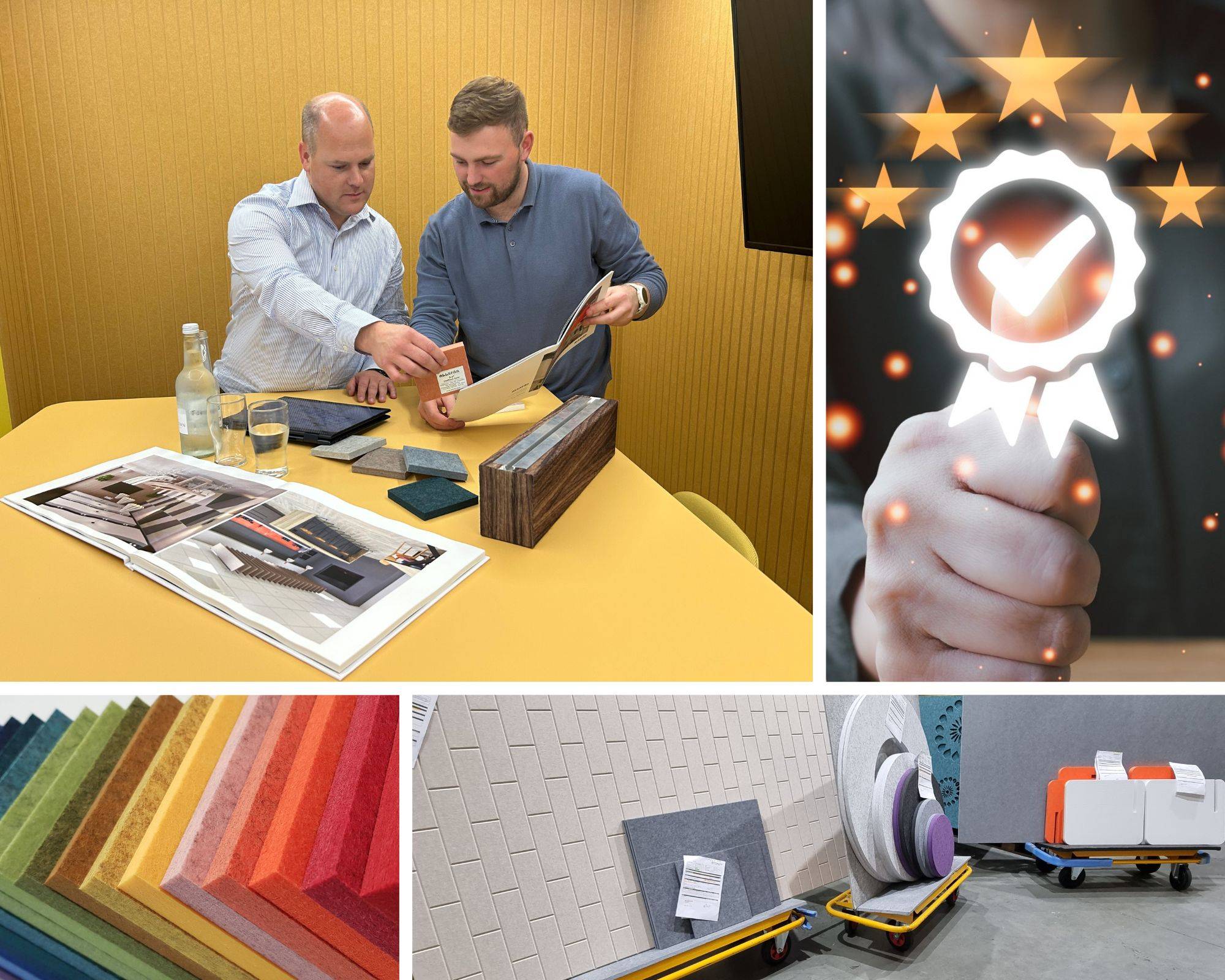 Our customers have two things in common: a demand for exciting, well-designed, sustainable acoustic products and a desire for excellent customer service. We understand that how well we deliver our products is almost as important as the products themselves, so we put a great deal of thought into our customer journey.
From initial research to final delivery, we've made our processes as transparent, personable and efficient as possible. We think of it in three simple steps:
1. Find our products
As an architect, interior designer or office furniture dealer in search of good acoustics for your space, your first step is to find the best products.
Our website includes the most up-to-date information about our wide range of wall and ceiling solutions, lighting and furniture. You'll find details about the vast array of different colours, patterns and finishes we offer as well as our sustainability credentials and technical information. There are multiple images to download and lots of case studies for inspiration.
And because we understand that some of our customers need material references, we also print a Catalogue, Look Book and individual brochures which we can mail out or you can download from the website.
We have embraced going digital with our resources and have CAD files and BIM files of our best-selling products available to download from our website, or if you need to include BIM files into your specifications, these are also available on the NBS platform.
On the whole, clientsfind something suitable from our ever-evolving range of acoustic products,but there are occasions when a bespoke design or size is required.  As we manufacture everything ourselves at our purpose-built factory in Watford we have the ability to work with you to create tailored products as needed.
2. Talk to us
The next step is to get in touch, there are so many ways! You can call, email or webchat us, set up a Teams call or meet face to face. You might even decide to pop into our new Clerkenwell Showroom for a coffee and the chance to view our products and samples in person. We are open Monday-Friday 9.30am-4.30pmby appointment, although you can always pop in if you're in the area!
Whichever way you contact us, this is an opportunity to discuss your project in more detail and talk through all the possible options. Our sales representatives are not only experts in our products but also knowledgeable about acoustics so they may be able to offer alternative suggestions. This is also a good time to establish any technical specifications, timeframes and discuss sustainability requirements. At the end of this stage you should have everything you need to make a final decision.
3. Delivered on time
Once you have decided on the products you want and have sent us an order, we will confirm all the product details, delivery address and dates by email. We'll notify you of the week you can expect your products, which is usually within six weeks of placing your order.  If you need to know the exact day, we can give you that information closer to your scheduled week of delivery.
To ensure your products arrive in pristine condition we will raise any queries around packaging and unloading requirements at this stage. Our boxes are made from recycled cardboard and each box is made to fit your order requirements. Your products will arrive boxed or palletised - depending on your access to a forklift – and we use offcuts and eco-friendly bubble air packaging to keep your products safe and snug.
Still here for you
Once your product has been delivered, we are still here to help. We can answer any technical questions about the product and work with your contractors around installation. If you need it, we can even come and install the products ourselves.
We hope this won't be a one-time purchase so, with your permission, we'll stay in touch with regular updates about our products, promotions and events.
---